Disbursements with Zelle®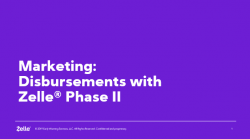 This guide is designed to provide helpful tips on how and when to deploy consumer facing marketing materials. It's contents will help you develop a plan to educate your customers on how to receive money from a company or government entity.
Click here to get the marketing guide.