When Your Hair Stylist Meets Zelle®
"Cash gratuity preferred. Thank you! :)"
Lindsey displayed that note inside of a glass frame with her cosmetology license next to the curling iron on her station. The friendly reminder caught my eye as I sat waiting in the chair, black cape draped over me, waiting for her to mix up a palette of warm colors to paint my hair with.
"So what have you been up to lately, girl? What's new with you?" Lindsey asked.
I proceeded to tell her how things were going at home, funny things that happened over the last six (or more like eight to 10 weeks - does anyone really follow the recommended six-week hair schedule?). I went on to tell her how things were going at work, which speaking of, her note…
"Hey, your note," I pointed. "I don't have any cash on me, but …"
She interrupts, "Oh, it's ok. Most of us just prefer to get gratuity in cash."
I interject, "I never carry cash anymore. But I do have Zelle®. You probably do, too."
No cash on you? Tip with your phone.
Lindsey: "Oh, your company's product. Zelle®. Right. Sorry, what is it again?"
Me: "Yep. Lots of banks across the country are now offering Zelle® in their banking apps, so you can pay almost anyone with a U.S. bank account with just your phone. We also launched the Zelle® app in September so people whose banks don't offer Zelle® yet can just download it from the App Store or Google Play. Who do you bank with?"
Lindsey: "Bank of America®. So do I have Zelle®already?"
Me: "Sure do. It's already in your banking app. I can just tip you with Zelle® right now from my phone. The money will be in your account in minutes1 . It's that fast and easy. And safe. It's through your bank."
Lindsey: "Shut up! Omg, Lily! Come here!"
While we waited for the just-summoned Lily, Lindsey explained to me that she'd been trying to get Lily to sign up for peer-to-peer payment apps so they could send money to each other with their phones. They were annoyed with the hassle of running to the ATM for cash all the time. But, Lily refused to download any of the apps Lindsey suggested.
Lindsey: "I've been trying to convince her, but she said she doesn't trust any apps outside of her bank having her account info." Lily makes her way to Lindsey's station.
Lily: "What's up?"
Lindsey: "Lil, Alexis' company has a product that we can use to send money to each other. It's called Zelle. I told her you won't download anything, but it's already in your bank app."
Me: "Who do you bank with, Lily?"
Lily: "Capital One®."
Me: "You already have Zelle®."
Lily: "What?! Seriously?"
Me: Yaaas, girl! Open your banking app."
Lindsey puts down the strand of my hair she's applying color to. They both grab their phones from their pockets and look for Zelle® in their banking apps.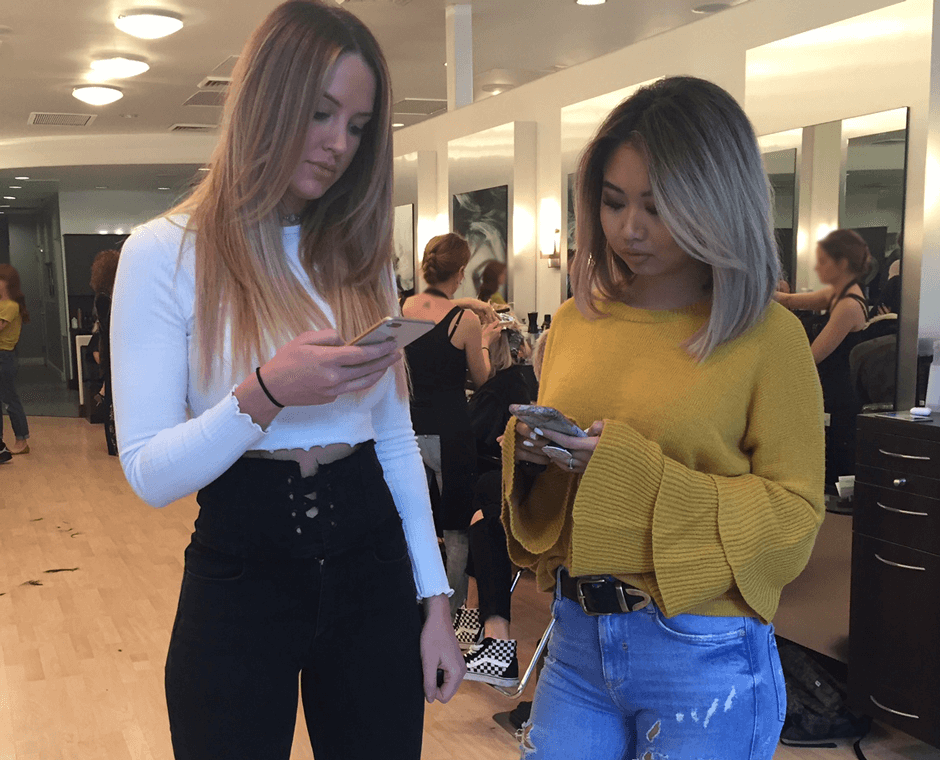 ​
Lindsey (left) and Lily (right) opening their banking apps to see if Zelle is already available.
Lily: "It's right there! This is amazing! Zelle®."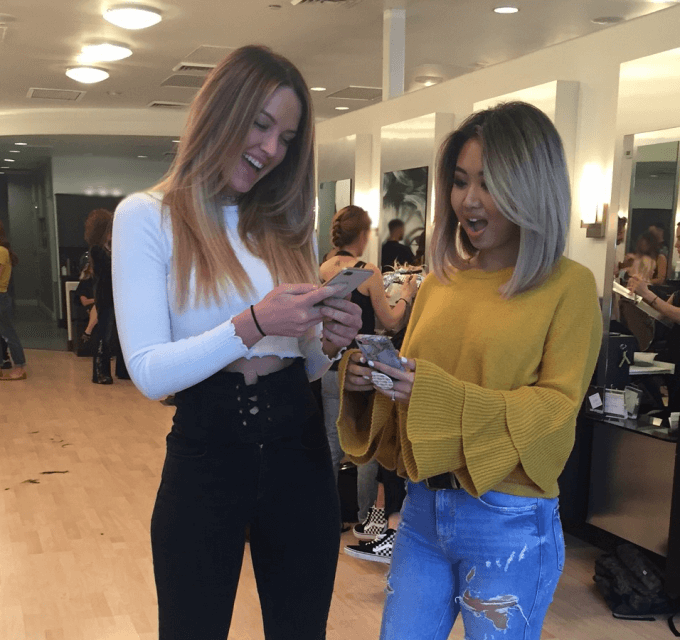 ​
Super excited to see Zelle already in their banking apps.
Lindsey: See, Lil. Now we can send money to each other without the annoying ATM, and you don't have to download anything."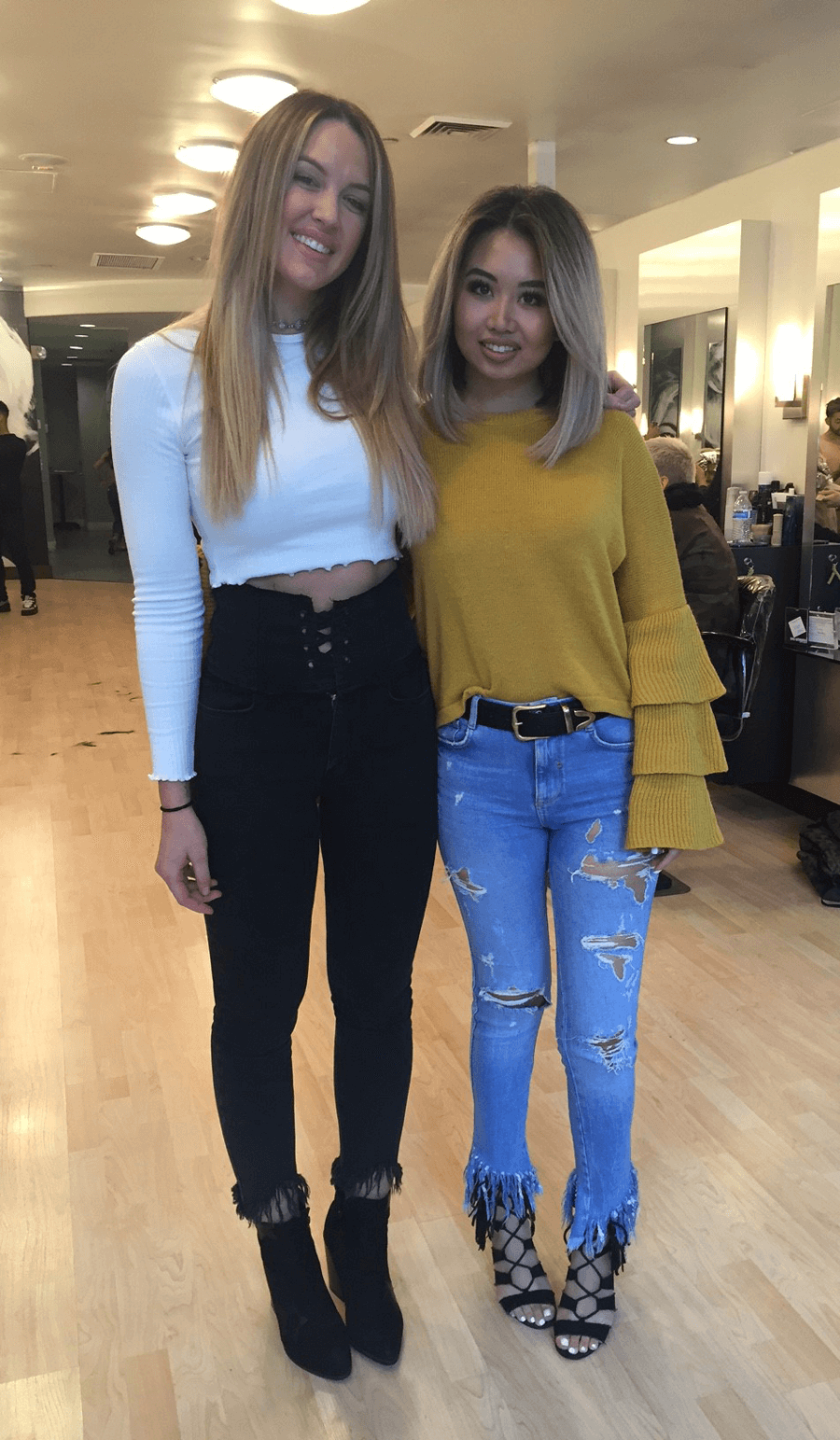 ​
No more awkward cash and checks = happy besties.
My work here is done. Two more friends educated on a new way to pay.
I'm guessing Lindsey's note on her station will be changing soon.
Zelle®. This is how money moves®.